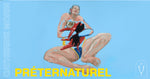 The Wishbone Gallery is delighted to present a very special exhibition, a solo show of works by Catherine Morin. The Préternaturel exhibition, which ran from August 25 and ended on November 20th, 2022, was exhibited in two spaces: at the Wishbone gallery and in a pop-up location a mere 20 meters from the gallery, at 374 Notre-Dame street West.
About the artist
Catherine Morin has a keen interest in human fragility. The body is her field of exploration. Through the body, she skillfully expresses her reflections, ranging from the simplest to the most paradoxical.
Catherine Morin's paintings are often large in size and reveal technical mastery, an understanding of colors, and a passion for landscapes.