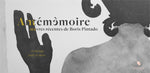 The Wishbone Gallery was delighted to present its inaugural exhibition, Antémémoire, a solo show of selected works by Boris Pintado.  
Pintado makes use of shapes, patterns, icons and textures as 'caches' of the rich cultural, animal and botanical histories which he skilfully and astutely articulates. In his intricate world of contrasts and counterpoints, we are invited to reflect upon that which is contradictory, even irreconcilable, within ourselves and in the world.
Here is a little video describing his work:
Boris Pintado is a Spanish artist living and working in Montreal. He has exhibited across Quebec, notably at the Livart, the Art Souterrain Festival, Montreal's Botanical Garden and the Barachois In Situ art biennial, organised by the Vaste et Vague artist-run center.